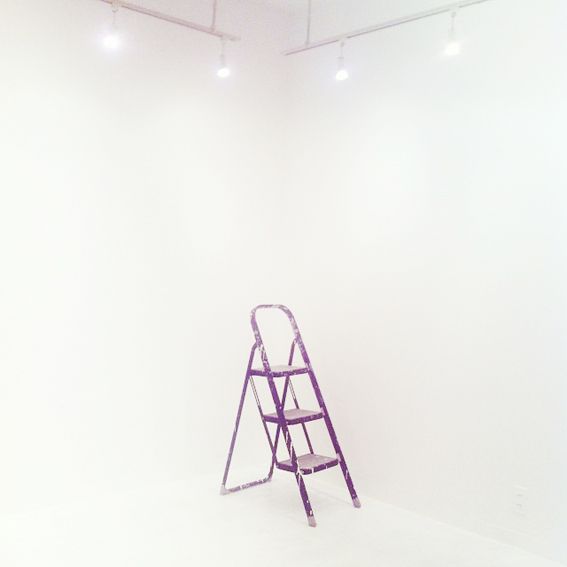 Sandwiches!
My exhibition of drawings and craft works at Commune Gallery
is finished. Thank you so much for everyone who came along. There are so many names in the guest book!
My apartment is filled with flowers, mustard, yuzu jam, amazake, cookies, sweets and so many sweet little notes. Love you guys. Thank you so much. お疲れ様でしたみゆきちゃん!☆
It's a little sad to see the gallery empty again after such a wonderful time in there. But it's beautiful and white and just waiting for the brilliance of many artists who have upcoming shows. Ah, is there nothing more inspiring than a white box room waiting to be filled.
KYOTO EXHIBITION
But now it's onto the next exhibition, this time in Kyoto. Next Thursday I'll be packing my suitcase full of Valentines Day crafts and taking the Shinkansen to
Violet and Claire
for my Hello Sandwich Valentine Exhibition.
Hello Sandwich Valentine Exhibition
7th - 14th February at Violet and Claire.
住所:京都市下京区早尾町313-3 五条モール202
最寄り駅は京阪「清水五条駅」から徒歩5分、市バス「五条河原町」もしくは「河原町正面」より徒歩4分。
TEL:075-708-8309
In my little suitcase I'll be packing some Valentine Paper Craft Kits, Valentine Confetti bows, Valentine Wrapping Kits and lots of other little love heart goodies for sale. Please pop by if you're in Kyoto. I'd love to meet you.
KYOTO WORKSHOP
I will also be hosting a workshop on both 8th and 9th February. (The 8th is fully booked, but there are still a few spots left for the 9th).
2/8 15:00 - 17:00



"MAKING LOVE LETTER WORKSHOP"


マスキングテープやカラーペーパーなどを使用し、自分でコラージュをしながら
カードを作るワークショップ。Hello Sanwichならではのカラーリングや
コツなどをEbonyちゃんに習って作ってみましょう♡
1500円(お茶、お菓子付)

- - - - - - - - - - - - - - - - - - - - - - - - - - - - - - - - - - - - - - - - - - - -

2/9 15:00 - 17:00



"VALENTINE GIFT BAG WORKSHOP"


ヴァレンタインのチョコレート、手作りしたものや市販のものも
もっと可愛くプレゼントしませんか??ラッピングに一工夫で
更に素敵なヴァレンタインになりますよ!!
2000円(お茶、お菓子付)

各ワークショップ定員5名
ワークショップへのお申し込みは店頭、またはメール
info@violet-claire.com宛にお名前、ご希望の日程、人数、
ご連絡先を明記の上、件名「HELLO SANDWICHワークショップ」
でお送りください。ご予約お待ちしております!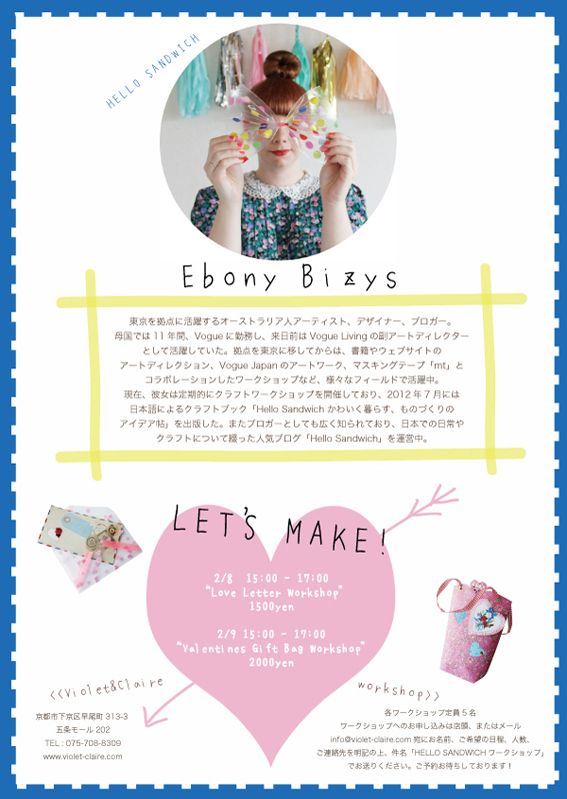 Now I'm off to read through the lovely notes in the guest book. They are all in Japanese with a LOT of kanji I don't know...so I'll be gone for a while.
Bye, Sandwiches!
Love Love
Hello Sandwich
xoxo