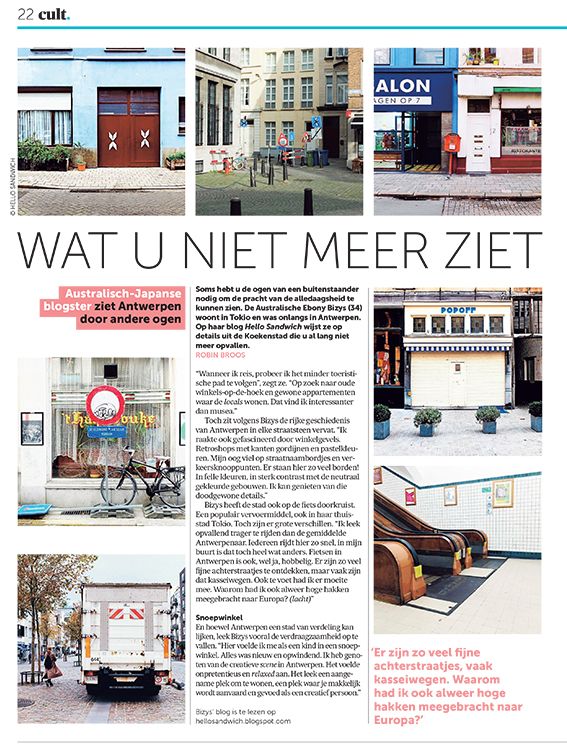 Hello Sandwiches!
Here is a little story about my photographs and experience in Antwerp that was recently published in the Belgian newspaper '
De Morgen
'. It was written by Robin Broos.
(Thank you so much Robin!)
You can see the story online
over here
, too.
Australisch-Japanse blogster

ziet Antwerpen door andere ogen.
Soms hebt u de ogen van een buitenstaander nodig om de pracht van de alledaagsheid te kunnen zien. De Australische Ebony Bizys (34) woont in Tokio en was onlangs in Antwerpen. Op haar blog

Hello Sandwich

wijst ze op details uit de Koekenstad die u al lang niet meer opvallen.
"Wanneer ik reis, probeer ik het minder toeristi- sche pad te volgen", zegt ze. "Op zoek naar oude winkels-op-de-hoek en gewone appartementen waar de

locals

wonen. Dat vind ik interessanter dan musea."
Toch zit volgens Bizys de rijke geschiedenis van Antwerpen in elke straatsteen vervat. "Ik raakte ook gefascineerd door winkelgevels. Retroshops met kanten gordijnen en pastelkleu- ren. Mijn oog viel op straatnaambordjes en ver- keersknooppunten. Er staan hier zo veel borden! In felle kleuren, in sterk contrast met de neutraal gekleurde gebouwen. Ik kan genieten van die doodgewone details."
Bizys heeft de stad ook op de fiets doorkruist. Een populair vervoermiddel, ook in haar thuis- stad Tokio. Toch zijn er grote verschillen. "Ik leek opvallend trager te rijden dan de gemiddelde Antwerpenaar. Iedereen rijdt hier zo snel, in mijn buurt is dat toch heel wat anders. Fietsen in Antwerpen is ook, wel ja, hobbelig. Er zijn zo veel fijne achterstraatjes te ontdekken, maar vaak zijn dat kasseiwegen. Ook te voet had ik er moeite mee. Waarom had ik ook alweer hoge hakken meegebracht naar Europa?

(lacht)

"
Snoepwinkel
En hoewel Antwerpen een stad van verdeling kan lijken, leek Bizys vooral de verdraagzaamheid op te vallen. "Hier voelde ik me als een kind in een snoep- winkel. Alles was nieuw en opwindend. Ik heb geno- ten van de creatieve

scene

in Antwerpen. Het voelde onpretentieus en

relaxed

aan. Het leek een aange- name plek om te wonen, een plek waar je makkelijk wordt aanvaard en gevoed als een creatief persoon."
Bizys' blog is te lezen op hellosandwich.blogspot.com